Books
MOSTLY HAPPY RETURNS – Anniversary Book
This book celebrates the team's achievements and many characters with assorted misremembered tales of derring-do, wild haverings and the dottled recollections of by-gone days when storms were stormier, snow was snowier, and tweeds, tackity-beets and a muckle Thermos kept the elements at bay.
Order a Copy by Post
Each book costs £15.00 and we can post it to any UK address by Royal Mail 2nd Class delivery for the small additional charge of £3.00. Please allow 14 days between ordering and delivery.
Cheque for £18.00 made payable to Braemar Mountain Rescue Association and sent to:
Braemar Mountain Rescue Association
23 Albert Road
Ballater
Aberdeenshire
AB35 5QL
If you wish to pay by bank transfer, we will send our bank details if you e-mail us at This email address is being protected from spambots. You need JavaScript enabled to view it.
Remember to include the name and address - including postcode - you want the book sent to!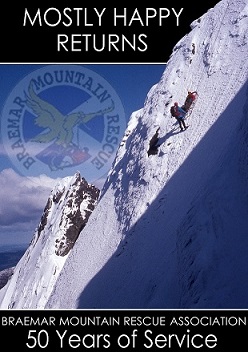 A Bobby on Ben MacDhui – John Duff
This book, first published in 2001 and still available from local bookshops, covers the early years of Braemar Mountain Rescue Team. Former team leader John Duff recounts how the Team came into being and details some of the rescues and camaraderie from the 1960's and 1970's.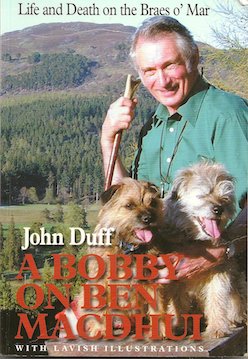 What a Story a Pair of Boots Could Tell - Adam Sutherland
This illustrated book of music was composed as a tribute to mountain rescue in the Cairngorms. The compositions are by Adam Sutherland the well-known Highland fiddler and were inspired by interviews with key local individuals and the history of the Braemar Mountain Rescue Team. It is available to purchase from scotlandsmusic.com priced £10.00